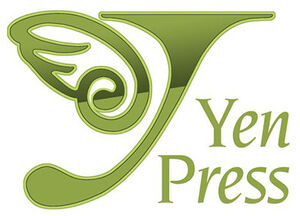 Yen Press is the manga and graphic novel imprint of Hachette Book Group. In addition to their regular book releases, Yen Press produces a monthly anthology called Yen Plus. The company's varied list demonstrates an interest in publishing a wide variety of Japanese manga, Korean manhwa, and other international content. In addition to translated material, Yen Press has recently begun developing original series, most notably a manga adaptation of James Patterson's Maximum Ride and Svetlana Chmakova's latest series, Nightschool.
Yen Press was founded in 2006 by former Borders Group, Inc. Buyer Kurt Hassler and DC Comics VP Rich Johnson (who left the imprint in the fall of 2008). In July 2007, it was announced that Yen Press was to absorb ICEkunion, a Korean publisher that had been releasing manhwa to the United States. While the manga titles bearing ICEkunion's label would be continued to be sold in stores, subsequent printings would bear the Yen Press logo. Kurt Hassler assured fans, "We plan to pick up all the existing [ICE Kunion] titles...We're going to continue everything, so fans shouldn't worry. None of these series are going to fall into a void."
Yen Press has also stated that it would like to release 30-40 volumes within 2008. One of the flagship titles of their original English artists line has been announced to be Nightschool, which would be released by Canadian Svetlana Chmakova, who is known for her Tokyopop title Dramacon.
During the New York Comic Con 2008, Yen Press announced that the titles Soul Eater, Nabari no Ou, Sumomomo Momomo, Bamboo Blade, and Higurashi no Naku Koro ni will run in their monthly anthology magazine Yen Plus. The first issue debuted on July 29, 2008.
In 2009 Yen Press announced that it has acquired the rights to Yotsuba&! and Azumanga Daioh from their former licensee, A.D. Vision. In September 2009, Yen will re-release the first five volumes of Yotsuba&!, in addition to releasing the sixth volume; Azumanga Daioh will be re-released with a newly-translated version in December 2009.