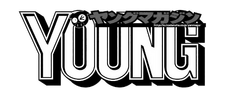 Weekly Young Magazine (週刊ヤングマガジン, Shūkan Yangu Magajin) is the flagship Japanese weekly seinen manga anthology published by Kodansha in the Young Magazine line.[1] The magazine's inaugural issue was published on June 23th, 1980 and is the flagship magazine to be targeted at the seinen demographic. The print run of the magazine occurs on the Monday of every week, with allowance for public holidays through merger issues and publication on the preceding Friday. The original run of Weekly Young Magazine series are collected and published in tankōbon volumes under the "YanmagaKC" imprint every three months.
The magazine usually publishes color photography of gravure idols (グラビア・アイドル, gurabia aidoru) on the cover and on the first five pages of each issue, occasionally substituted for color character art.[2] The magazine features gambling, explicit and graphic content as well as adult comedy. The thirty-fifth anniversary of Weekly Young Magazine was celebrated by Kodansha in 2015 with the BULLET oneshot line in the magazine's publication. The magazine's monthly counterpart Monthly Young Magazine began publication with its inaugural issue on December 9th, 2009.[3] The second monthly sister magazine Young Magazine the Third began publication on September 5, 2014.[4]
List of series
[
]
List of ongoing series
[
]
There are currently thirty manga series serialized weekly on Weekly Young Magazine, with twenty one manga series in Monthly Young Magazine.
Weekly Young Magazine (

週刊ヤングマガジン

)
Series Title
Author
Premiered
Kenka Kagyou (

喧嘩稼業

)
Yasuaki Kita

2014

Tobaku Datenroku Kaiji One Poker-hen (

賭博堕天録カイジ ワン・ポーカー編

)
Nobuyuki Fukumoto

2013

Higanjima 48-Nichigo (

彼岸島 48日後…

)
Kouji Matsumoto

2014

Minami-ke (

みなみけ

)
Koharu Sakuraba

2004

Prison School (

監獄学園

)
Akira Hiramoto

2011

xxxHolic Rei (

×××ホリック◆ 戻

)
CLAMP

2013

The Great War of Archimedes (

アルキメデスの大戦

)
Kazunobu Goto

2015

Kudan no Gotoshi (

クダンノゴトシ

)
Jun Watanabe

2015

The Fable (

ザ・ファブル

)
Katsuhisa Minami

2014

GTO Paradise Lost (

GTO パラダイス・ロスト

)
Toru Fujisawa

2014

Smoking (

スモーキング

)
Hiroshi Iwaki

2015

Seven Star (

セブン☆スター

)
Taiki Yanagiuchi

2014

Senka no Kanojo (

戦渦のカノジョ

)
Tomisawa Hiroki

2015

Sengoku Gonbei (

センゴク権兵衛

)
Hideki Miyashita

2015

Chikotan, Kowareru (

ちこたん、こわれる

)
Imai Yu

2015

Chuuni no Danshi to Dairokkan (

中2の男子と第6感

)
Fukumitsu Shigeyuki

2014

Tejina Senpai (

手品先輩

)
Asu

2016

DELETE
Shinji Kawakami & Ryo Nagata

2015

Tokumei no Kanojotachi (

匿名の彼女たち

)
Kenzo Igarashi

2012

Hantsu X Trash (

ハンツー×トラッシュ

)
Hiyoko Kobayashi

2012

Back Street Girls
Gyu Jasmin

2015

Hare Kon (

ハレ婚。

)
NON

2014

Yakyugami (

ヤキュガミ

)
Tetsuro Kuromatsu & Kouchi Ji

2015

Yoshifumi to Karaage (

よしふみとからあげ

)
Kanko Sekiguchi

2016

Roboneat Mitsuo (

ロボニートみつお

)
Odawara Dragon

2016

Parallel Paradise (

パラレルパラダイス

)
Lynn Okamoto

2017
Monthly Young Magazine (

ヤングマガジン

)
Series Title
Author
Premiered
[R-16]R
Hiroto Saki

2014

Kissxsis (

キス×シス

)
Bow Ditama

2005

Kirameki no Gaoka (

きらめきのがおか

)
Yukiko Gouto

2015

Ginga Otome (

銀河乙女

)
Shirogumi Heiwa & Hiroyuki Tamakoshi

2014

Ghost in the Shell ARISE (

攻殻機動隊 ARISE

)
Masamune Shirow

2013

Psycho Bank (

サイコバンク

)
Naoki Serizawa

2015

Silent Mobius QD (

サイレントメビウスQD

)
Kia Asamiya

2013

Sachiko ni Sachiare (

幸子に幸あれ

)
Maki Seiharu

2013

Serman (

サーマン

)
Shouhei Sasaki

2015

Juu Ninpou Makai Tenshou (

十 忍法魔界転生

)
Futaro Yamada & Masaki Segawa

2012

Spoiler Amari (

スポイラー甘利

)
Yuji Uratsu

2015

Sengoku Gedouden Roka Aroka (

戦国外道伝 ローカ=アローカ

)
Masaru Sato & Akira Hasegawa

2015

Chuukan Kanriroku Tonegawa (

中間管理録トネガワ

)
Noboyuki Fukumoto

2015

Tokumeikakarichou Tadano Hitoshi Rookie-hen (

特命係長 只野仁 ルーキー編

)
Kimio Yanagisawa

2009

Naname ni Naname-chan (

ナナメにナナミちゃん

)
Kouhei Yoshitani

2015

Nekkyo! Otome Festival (

熱響! 乙女フェスティバル

)
Heiwa & Yusuke Sasanoyu

2015

Baka Kyoudai (

バカ姉弟

)
Akira Adachi

1999

Enma no Musukotachi (

閻魔の息子達

)
Hiroto Saki & Naoki Azuma

2016

The Clockwork Current (

星籠の海

)
Shouji Shimada & Osamu Akama

2007

Lets Lagoon (

レッツ☆ラグーン

)
Takeshi Okazaki

2007

Watari-kun no ga Houkai Sunzen (

渡くんの××が崩壊寸前

)
Naru Narumi

2015
Young Magazine the Third (

ヤングマガジンサード

)
Series Title
Author
Premiered
List of completed series
[
]
1980s
[
]
1990s
[
]
2000s
[
]
2010s
[
]
References
[
]
External links
[
]