m

 

(2 intermediate revisions by one other user not shown)
Line 2:
Line 2:
 

|genre=Action, Mecha, Romance, Science Fiction

 

|genre=Action, Mecha, Romance, Science Fiction

 

|media=Anime, Manga, Novel, Film, Audio Drama

 

|media=Anime, Manga, Novel, Film, Audio Drama

−

|wiki=zegapain

 
⚫
 
 

|image=File:Zegapain.jpg

 

|image=File:Zegapain.jpg

 
+

|wiki=bravesaga

⚫
 
 
⚫
⚫
 
 
+

|foundingdate=May 27, 2010

⚫
 
 
⚫
 
⚫
 
⚫
 

|animanganavlink=No

 

|animanganavlink=No

−

|adoptable=Yes

+

|adoptable=

 

}}

 

}}

−

'''Zegapain''' (ゼーガペイン) is an anime television series created by Sunrise. The series premiered in Japan on April 6, 2006 on TV Tokyo and also later aired on BS Japan and AT-X. On October 2, 2007, Bandai Entertainment released the first Region 1 volume of Zegapain with the last volume released on August 5, 2008. Following the 2012 closure of Bandai Entertainment, Sunrise announced at Otakon 2013, that Sentai Filmworks has rescued Zegapain, along with a handful of other former BEI titles.

+

'''Zegapain''' (ゼーガペイン) is an anime television series created by Sunrise. The series premiered in Japan on April 6, 2006 on TV Tokyo and also later aired on BS Japan and AT-X. On October 2, 2007, Bandai Entertainment released the first Region 1 volume of Zegapain with the last volume released on August 5, 2008. Following the 2012 closure of Bandai Entertainment, Sunrise announced at Otakon 2013, that Sentai Filmworks has rescued Zegapain, along with a handful of other former BEI titles.

 
 
 

==Plot==

 

==Plot==
---
Latest revision as of 07:27, 6 July 2020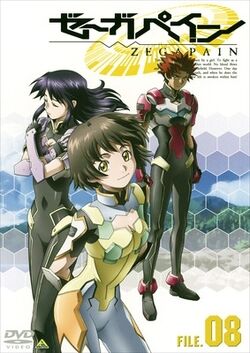 ---
Brave Saga Wiki
Wiki founding
: 2010/05/27
Page count
: 91
Last checked
: 2020/07/06
---
Genre:

Action , Mecha , Romance , Science Fiction 

Media:

Anime, Manga, Novel, Film, Audio Drama
Zegapain (ゼーガペイン) is an anime television series created by Sunrise. The series premiered in Japan on April 6, 2006 on TV Tokyo and also later aired on BS Japan and AT-X. On October 2, 2007, Bandai Entertainment released the first Region 1 volume of Zegapain with the last volume released on August 5, 2008. Following the 2012 closure of Bandai Entertainment, Sunrise announced at Otakon 2013, that Sentai Filmworks has rescued Zegapain, along with a handful of other former BEI titles.
Plot[]
Kyo Sogoru, a high school boy living in a city called Maihama, leads a normal life of school, romance, and the swim club. Kyo's life changes when he sees a beautiful girl, Shizuno Misaki, at the pool one day and discovers he is initially the only person who can see her. In order to keep his high school's swimming club open by recruiting more members, Kyo hopes to enlist Shizuno to appear in a promo video shot by Kyo's close friend, Ryoko. Shizuno agrees, but on the condition that he does something for her in exchange – pilot a mecha for an organization known as Celebrum.
Agreeing to her request, Kyo is drawn into a world of fighting giant robots in a game-like world that he must save from Deutera Areas formed by aliens known as Gards-orm that threaten to destroy the earth. However, Kyo soon comes to realize that the world that he is living in might not even be real at all and begins to find that everything he is doing is strangely familiar. As he questions the nature of the reality he lives in, Kyo must continue to fight in order to protect the lives of those important to him.
External Links[]
Official[]
Other Sources[]
Other Wikis[]
References[]